Absolutely Paysages de la Champagne !
" Paysages de la Champagne " like nowhere else!
The " Paysages de la Champagne " are 4 versions of a surprising Champagne and its vineyard slopes which give rhythm to its landscapes!
The Montagne de Reims, a regional natural park, a vast promontory with multiple facets combining nature and Champagne traditions. The Marne Valley, an emblematic and surprising valley where water, forest, and vineyards meet and where Pinot Meunier is king. The Surmelin Valley, a bucolic land of crops, pastures, remarkable forests and ponds that can be discovered by taking the schoolchildren's path. The marshes of Saint Gond, unique and wild natural heritage, offering a mosaic of discoveries and amazing archaeological treasures.
These landscapes will offer you surprising panoramas, breathtaking from a wide angle, but also the privilege of discovering rare and secret places that make the Champagne region!

Marshes of Saint-Gond
An emblematic and rare landscape, a unique vegetation: willows, high grass meadows and very flowery during the summer, unique forests that have their feet in the water, you are in the heart of the Marshes of Saint-Gond.
Montagne de Reims
The Montagne de Reims is a vast promontory with multiple facets alternating vineyards, forests, farmland, valleys and rivers, giving rhythm to the daily life of the women and men who make it live.
Surmelin Valley
Marked by its authenticity, its land of crops and pastures, punctuated by forests and ponds, the Surmelin Valley offers a bucolic landscape. This forest massif is a remarkable site of the Marne by the richness of its flora and fauna.
Marne Valley
The Marne Valley offers a variety of landscapes where water, forest and vineyards meet. Villages appear in the heart of the vineyard hillsides or hide in the Flagot Valley. Churches, priories, castles crowned with forests are the pride of the inhabitants of the valley.
Must-sees, favourites, secret corners, unusual places... the landscapes of Champagne are revealed and will surprise you!
Highlights
The moment, you absolutely have to live and to share! The Paysages de la Champagne are a source of pleasure, of all pleasures!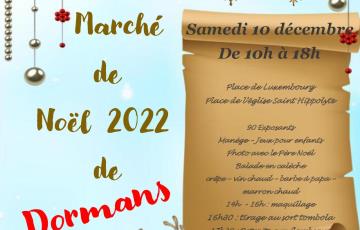 DORMANS
The association of the merchants C.A.r.I.Do organizes its Christmas market on Saturday, December 10th...
Read more
The agenda of the Paysages de la Champagne
All the outing suggestions !
How to get to the Paysages de la Champagne
By car:
From Paris/Strasbourg: A4 exit Dormans, Reims, Châlons-en-Champagne, Sainte-Ménéhould

From Calais/Troyes: A26 exit Reims, Châlons-en-Champagne, Sommesous

From Reims/Charleville-Mézières : A34 exits Valleys of the Suippe, Witry-lès Reims, Reims

By train :
From Paris Gare de l'Est : Stops Dormans, Epernay or Reims