Absolutely Paysages de la Champagne !
" Paysages de la Champagne " like nowhere else!
The " Paysages de la Champagne " are 4 different versions of a surprising Champagne with its hillsides that give an identity to its landscapes !
The Montagne de Reims, regional natural park, combines nature and Champagne traditions. The Marne Valley, an emblematic and surprising valley where water, forest, vineyards meet and Pinot Meunier is the king grape variety. The Surmelin Valley, a bucolic land of crops, pastures, forests and ponds that can be discovered thanks to the schoolchildren's path. The Marshes of Saint-Gond, unique and wild natural heritage, offer a mosaic of discoveries and amazing archaeological treasures.
These landscapes will offer you surprising, breathtaking panoramas, but also the discovery of rare and secret places that make the Champagne region !

Must-sees, favourites, secret corners, unusual places... the "Paysages de la Champagne" are revealed and will surprise you!
Highlights
The moment, you absolutely have to live and to share! The Paysages de la Champagne are a source of pleasure, of all pleasures!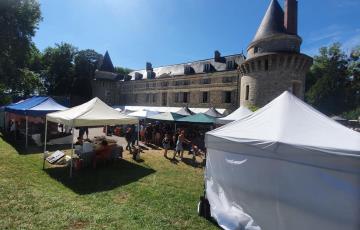 DORMANS
Venez découvrir la 2ème édition du Marché Médiéval et Artisanal de Dormans organisé par l'...
Read more
The events calendar of the Paysages de la Champagne
All the outing suggestions !
How to get to the Paysages de la Champagne
By car:
From Paris/Strasbourg: A4 exit Dormans, Reims, Châlons-en-Champagne, Sainte-Ménéhould

From Calais/Troyes: A26 exit Reims, Châlons-en-Champagne, Sommesous

From Reims/Charleville-Mézières : A34 exits vallées de la Suippe, Witry-lès Reims, Reims

By train :
From Paris Gare de l'Est : Stops Dormans, Epernay or Reims